Drones come in all kinds of different shapes and forms—from tiny little drones that can fit in your palm to multimillion military drones having a wingspan of a Boeing 737.
If you are reading this, you are probably interested in learning more about drones, especially about their weight.
So how much does a drone weigh? A drone weighs between 2 grams and 32,250 pounds (14,628 kg) depending on the type and purpose of the drone. The standard consumer-grade drones weigh on average about 2.6 pounds (1200 grams) while the commercial and militarily drones may have a dry weight between 7.3 pounds (3.3 kg) and 14,949 pounds (6,781 kg).
With that being said, there are a lot of interesting details I stumbled upon while doing my research. For more in-depth information, including some interesting tables and numbers, continue reading below.
What Affects Drone Weight?
Everything the drone is made of will affect its weight. This includes but is not limited to:
The material used for the making of the drone's chassis;
The type and capacity of the onboard battery;
The number of propellers and the material they are made out of;
The number of electric motors;
The electronic components; and
All other accessories the drone may have installed on it like a gimbal, propeller guards, sensors, the camera, and more.
In fact, many drone owners try to replace some of these parts because they want to reduce the weight of their drones—thus extending their flight time.
How Much Do Consumer Drones Weigh?
It is only natural to start with the lightest drones—this is the featherweight category.
There are a lot of different drones in this category, and although I will not take a look at every single one, I am sure you will be surprised at just how lightweight they are.
Let's take a look.
| Drone | Weight |
| --- | --- |
| DJI Mavic 2 ZOOM | 905 g |
| DJI Phantom 3 Standard | 1216 g |
| DJI Phantom 4 PRO | 1388 g |
| DJI Phantom 4 Advanced | 1368 g |
| DJI Mavic Pro | 734 g |
| DJI Mavic 2 PRO | 907 g |
| DJI Spark | 300 g |
| DJI Mavic Air | 430 g |
| DJI Mavic Mini | 249 g |
| Tello | 80 g |
| Potensic A20 RC Nano Quadcopter | 100 g |
| Hubsan H111 | 11 g |
| Eachine E010 | 22 g |
| Piccolissimo | <2.5 g |
As you can see, most of the popular drones today weigh between 300 and 1400 grams.
And the most popular type of drones, the DJI drones, usually weigh between 700 and 1400 grams.
These drones normally pack a lot of technology and are capable of doing a lot of different things. The majority of these are intended for doing aerial photography, inspections, and so much more.
But there are also a lot of different lightweight models that weigh no more than a few hundred grams at most. These lightweight drones are usually intended to enjoy the process of flying. They are not equipped with any of the new-age technology and features and are usually relatively simple to use and fly.
How Much Do Prosumer and Commercial Drones Weigh?
The prosumer and commercial models have been designed to carry out various highly-specialized tasks like spraying fertilizers, carrying parcels, and even carrying out search and rescue operations. Because of that, what you will find out is that they tend to be a lot heavier on average.
How Much Do Passenger Drones Weigh?
Next, we have a few passenger drones. Since these are designed and built for carrying passengers, we can be almost certain that they will weigh quite a bit since they need to be able not just to lift and carry a person but also to be capable of carrying their luggage and more.
| Drone | Weight |
| --- | --- |
| Ehang 216 | 793.6 lbs (360 kg) |
| Ehang 184 (phased out) | 440 lbs (199.5 kg) |
| Volocopter | 1543,24 lbs (700 kg) |
The Volocopter is easily one of the heaviest drones in this category, capable of carrying up to two passengers, including their baggage. It has a maximum take-off weight of 1984.1 lbs (900 kg).
How Much Do Military Drones Weigh?
And lastly, let us explore the vast world of the military drones.
There is a large number of different military drones. For example:
| Drone | Empty Weight |
| --- | --- |
| Boeing Insitu ScanEagle | 30.9–39.68 lb (14–18 kg) |
| Boeing Insitu RQ-21 Blackjack | 81 lb (37 kg) |
| General Atomics MQ-1 Predator | 1,130 lb (513 kg) |
| Yabhon United 40 | 1,146 lbs(520 kg) |
| General Atomics MQ-9 Reaper | 4,900 lbs (2,223 kg) |
| Northrop Grumman MQ-4C Triton | 14,945 lb (6,781 kg) |
Just taking a look at the empty weight of these drones is awe-inspiring. These drones, depending on their class, are usually built for long-distance operations, which requires them to be able to carry high amounts of payloads like fuel and weaponry.
Depending on their weight, military drones may be classified in several different categories.
For example:
Small UAVs from 0 to 20 lbs
Medium UAVs from 21 to 50 lbs;
Large UAVs from 56 to 1320 lbs;
Larger UAVs 1320 lbs and above with operating altitude up to 18,000 ft; and
Largest UAVs 1320 lbs and above with operating altitude above 18,000 ft.
How Much Does the Heaviest Drone Weigh?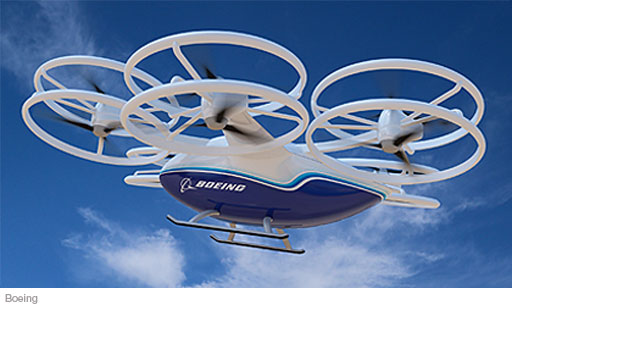 What I really wanted to find out was what is the heaviest drone built. I am not talking about military drones or passenger drones, as these are more specialized drones that have been built with a different purpose.
So I am talking strictly about a normal drone.
The heaviest drone is the Boeing Cargo Air Vehicle (CAV). The CAV weighs an impressive 1,100 lbs (498.9 kg). It is designed to carry large packages up to 500 pounds (226.8 kg).
How Much Does the Heaviest Military Drone Weigh?
The heaviest military drone to date is the Northrop Grumman RQ-4 Global Hawk, which weighs about 14,949 lbs (6,781 kg).
And, if we take into account the additional payload it can lift, the total weight of the drone can go up to 32,250 lb (14,628 kg). Quite impressive.
How Much Does the Lightest Drone Weigh?
Now it was only natural for me to focus my attention on the other extreme.
The lightest drone is the RoboBee developed and built by the robotics team at the University of Harvard. The RoboBee weighs a humble 0.0028 oz (80 milligrams).
The RoboBee was developed with the purpose of creating swarms of flying RoboBees, which can be used for pollination, surveillance, and search and rescue missions.
How Much Does the Lightest Military Drone Weigh?
The lightest military drone is the Black Hornet Nano, which weighs a mere 16 grams (including the batteries).
This tiny drone is equipped with three cameras and has been designed to aid troops with surveillance and reconnaissance support on the battlefield.
Why Is the Weight of the Drone Important?
The weight of the drone is important for several different reasons.
To begin with, drone weight affects all hobbyists (or modelers as they are referred to now) and commercial drone flyers.
Drones that weigh more than 0.55 lbs (250 grams) should be registered with the FAA—and this can be done online. There is one caveat, though. Drones that weigh 55 lbs (25 kg) and above have to be registered with the FAA by paper.
The weight of the drone also affects the payload capacity and the overall flight time.
The bigger the drone, the longer it can fly and the heavier load it can carry. It is almost counterintuitive, but let me explain. The smaller stunt drones usually have about 5 to no more than 15 minutes of flight time and can carry a very small payload of no more than a hundred grams or so.
This is in part because they have smaller props, a battery with lower capacity, and less powerful motors.
In comparison, the bigger drones do weigh more. But they can carry a more powerful motor, bigger props capable of displacing high amounts of air as they rotate, and best of all, a battery with a larger capacity.
All this allows heavier drones to be capable of flying for up to 30-35 minutes.
A heavier drone is also capable of handling winds, and air gusts a lot better while maintaining its stability, whereas smaller drones are usually very unstable.
Also Read:
Top Drones For Wedding Photography