Choosing the right gift is never an easy task.
It can be even harder if you want to get a specific gift. Like what do you get someone who likes drones?
Worry not.
In this article, you will find everything you need to know to buy an awesome gift for a drone lover or enthusiast.
Of course, there are some caveats, and this is why in combination with the gift ideas, you will also find some additional information that will help you make the right decision.
Lastly, before we start, I'd like to mention one more thing.
If the person you are buying this gift is using drones commercially, do not forget to include the receipt. This can be a neat little extra bonus as later they may be able to write the expense off.
With that out of the way, here are the best gifts for drone lovers.
Drone
A drone is a great gift. There is not a single person that will say no to a new drone—drone lover or not. The best thing is that there are so many different options on the market today that it is almost guaranteed you will find something appropriate.
However, before going on and buying a drone, you need to consider a few things.
If we are talking about recreational and hobby purposes, then maybe even a smaller stunt drone can make for a great gift. These are inexpensive and easy to fly.
However, for people that are more into aerial photography, a drone capable of capturing high-resolution videos and photos may be more appropriate—which could mean you will be looking at high prices.
Here are some of the best overall drones that will make an excellent gift:
Last update on 2021-06-23 / Affiliate links / Images from Amazon Product Advertising API
DJI Mavic Mini
DJI Phantom 3 Standard Quadcopter Drone
DJI Mavic 2 ZOOM
DJI Phantom 4 PRO
For kids, you can never go wrong by choosing one of these drones:
Last update on 2021-06-16 / Affiliate links / Images from Amazon Product Advertising API
SNAPTAIN S5C
SIMREX X300C Mini Drone
Holy Stone HS170 Predator Mini Drone
SNAPTAIN H823H Mini Drone for Kids
Is that person not only a drone lover but a Star Wars fan too?
Well, say no more. This drone, on Amazon, is based on the X-Wing T-65 from Star Wars.
Last update on 2021-06-23 / Affiliate links / Images from Amazon Product Advertising API
Drone Accessories
With drones being so popular nowadays, you can bet that there is a huge number of different drone accessories one can use. The good news is that drone accessories are definitely worth it. However, the bad news is that you may get easily overwhelmed by the sheer variety.
The right drone accessory can be a great gift, but you need to make sure you are indeed getting the right accessory.
This is where the more knowledge you have about the drone your friend is flying—the better.
Below I have listed some of the most useful and sought after drone accessories that will make for a great gift.
However, you need to do some preliminary research. The drone accessories are not universal, so you need to know what drone you are buying the accessories for.
Next, consider whether or not that person will actually be using or needing that accessory and whether or not they may already have it.
Extra Battery
There is no such thing as having enough batteries when it comes to drones. Batteries can drain very fast, and having extras is always going to be helpful.
However, make sure to do some preliminary research as to what kind of drone they have—batteries are not universal and maybe both brand and model specific.
SD Memory Card
Although an SD memory card is quite small, it can make for a great gift. However, there are a few things that you need to consider first.
Drones that can capture images and videos usually do have some internal storage, but they also require a memory card.
But, not just any memory card can be used.
Usually, we are talking about high-capacity memory cards with high writing speeds like this SD memory card on Amazon.
Generally speaking, the majority of the best drones can take between 64 and 128 GB memory cards. If the drone is capable of shooting 4K videos, I recommend going with no less than 32 GB and a speed rating of no less than Class 10 or UHS-1.
 Landing Pad
A landing pad like this one on Amazon provides a stable surface for the drone to take off and land. Usually, drone landing pads are brightly colored in order to be easily visible.
First Person View (FPV) Goggles
FPV goggles are fairly expensive, and not all drones support them, but they can be an excellent gift that can bring the drone flying experience to a whole new level.
You can find some models on Amazon right here.
Filter Kit
Filters are definitely one of the things that can make any drone owner happy. Filters will prevent glares, reflections, and overexposure.
However, there is one caveat—and it is a big one—and that is, you need to know what drone they are using. Drones have different cameras, and you have to make sure you have the right filters.
With that being said, Amazon has a wide variety of different drone filters that you can find here.
Range Extender
A range extender is great for anyone that wants to fly their drone farther.
A range extender like this one on Amazon may add as much as 1000 ft, if not more. Although, depending on the different conditions, this range can vary. Of course, these range extenders will usually be model specific, so you need to keep that in mind.
Lost Drone Locator
Some drones come with a built-in locator. But many do not have it. Drones can crash, go out of range, fall into rivers or other bodies of water, get into trees—let's admit it they can be lost quite easily.
A reliable tracker is a must-have sometimes. However, picking the right one is important.
Some trackers use GPS or cell services to locate your lost drone and charge monthly fees up to $25 per month—now, receiving a gift that will cost you money each month does not seem like a lot of fun.
This is why a tracker like the Marco Polo Ultralight Drone Locator on Amazon is a much better option. It has a long-lasting battery. It is very small and lightweight so it can fit even on small drones, but at the same time, it is capable of tracking a lost drone up to 2 miles away. And best of all, no monthly fees.
The only downside is that it is expensive, so it may not be an appropriate gift for everyone.
Controller and Device Holder
Another great gift idea, especially if you know what drone that person is using, is to get them a controller holder like these ones you can find on Amazon.
Low Noise Propellers
The propellers are one of the most fragile parts of any drone. They break quite easily sometimes, and having extra propellers is always useful.
A set of new, high-quality propellers can also affect how the drone flies and feels—for added value, make sure to go for propellers that have been designed to produce low noise levels.
The is a wide array of different low noise propellers that you can find on Amazon right here.
Carrying Case
On Amazon, you can find a massive list of different carrying cases. Some are fairly universal, while others may be brand and model specific. I recommend getting a carrying case only if you know what kind of drone it will be for.
Other Drone Gifts
Book
Last update on 2021-06-23 / Affiliate links / Images from Amazon Product Advertising API
There is this book that is almost a must-have when it comes down to understanding how to capture stunning images with a drone. The Aerial Photography and Videography Using Drones found on Amazon is a book that contains a lot of useful information coming from a person with real-world experience in this field.
Another book worth mentioning, found on Amazon, is The Photographer's Guide to Drones. The book is easy to read, very informative, and filled with stunning images. It can easily inspire anyone to get into aerial photography.
The Livin' the Drone Life, on Amazon, is one of these books that any drone owner should read at least once. It contains a whole myriad of essential information, tips, and tricks about drone flying, storage, and overall usage. It contains so much valuable information that even pros will find it helpful and insightful.
T-Shirt or a Hat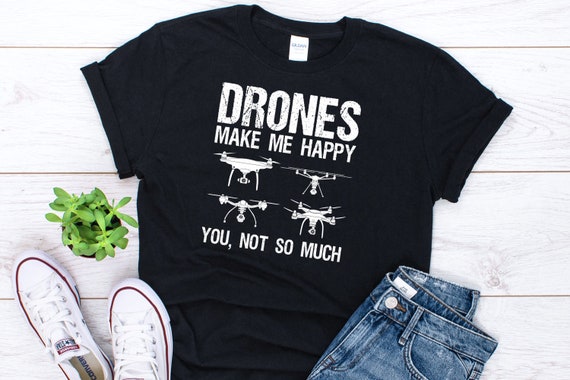 T-shirts should also not be overlooked—a cool t-shirt can make for an excellent gift.
Of course, there is a wide array of different drone-themed shirts that you can choose from. Let's not forget that even if you don't like the ones that are already being sold in the shops, you can have a shirt custom made.
There are also a lot of different drone-themed hats that can be found on the market.
Drone Mug
Although the go-to gifts would typically be either accessories, drones, or clothing, mugs are also not a bad gift.
There is a huge variety of different drone-themed mugs, but the best part is that—and depending on your creativity—you can have one custom made.
DJI Osmo Pocket

Last update on 2021-06-23 / Affiliate links / Images from Amazon Product Advertising API
This small and lightweight pocket camera can be a neat gift for any DJI fan.
The camera is capable of capturing stunning videos in 4K resolution. Anyone who's ever owned a DJI drone knows what to expect. The small size of the Osmo Pocket makes it extremely portable, and you can bring it with you almost anywhere.
But do not let the small size fool you; this camera is capable of more than anyone might expect.
Aerial Photography Classes
Depending on the location, the photography classes from DJI can be an excellent gift. In those classes, people are taught different photography tips and techniques, frequently including various ways to earn money.
Remote Pilot Certification Prep Course
Why not help your buddy get a professional license? Most drone flyers are registered under section 336, which is intended for hobbyists.
The next step is to get certified as a professional under part 107.
This can allow the drone user actually to use their drone for commercial purposes. To get that certification, though, they need to pass an exam. The exam is not that easy, and this is where a good prep course like this one can be useful.
Additionally, there are some way cheaper alternatives like the Prepware Remote Pilot App, which in combination with some videos like this one, can be more than enough for your buddy to pass the exam.
Also Read
Best Drones For Wedding Photography
Best Drones for Photogrammetry